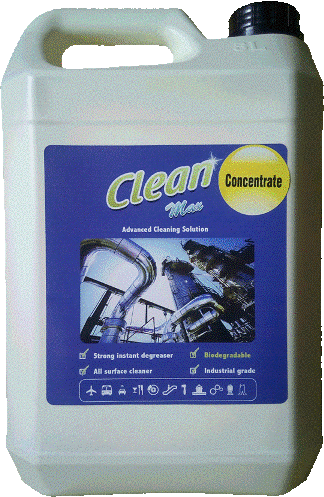 CLEANMAX CONCENTRATE
Multi surface detergent
Applications :
• Industrial
• Tunnels
• Buildings
• Roads
• Vehicles
• Walls, canopies
• Airports, hotels
Packaging : 5 & 20 litres
Dilution : 1 part of CleanMax up to 20 parts of water
Overview
Multi-surface degreaser and cleaner for industrial plants, equipment and facilities. This strong, versatile and biodegradable degreaser comes in a highly concentrated, non-hazardous form and may be custom diluted to fit almost any cleaning application.
Characteristics
Biodegradable, water soluble, mineral oil free, nonflammable, non-volatile. It is alkaline solution that contains additives for oil holding capacity, surface wetting and no foaming attributes. No VOC's, No solvent, No Ammonia.
Usage
Removes oil, grease, soot, fat, grime, dirt, nicotine and all kinds of other pollutants from all types of surfaces.