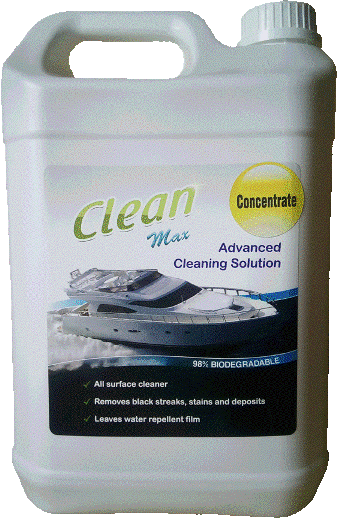 CLEANMAX BOATING
Multi surface detergent
Applications :
• Deck, Hull
• Steel, Aluminum
• Sails and ropes
• Teak, wooden floor
• Gel coat
• Windows, hypalon, etc…

Packaging : 5 & 20 litres
Instructions : See datasheet
Dilution : 1 part of CleanMax up to 20 parts of water
Overview
Multi-surface degreaser and cleaner for all surfaces on sailing boats and yachts, even the most embedded black streaks. This strong, versatile and biodegradable degreaser comes in a highly concentrated, non-hazardous form and may be custom diluted to fit almost any cleaning application.
Characteristics
Biodegradable, water soluble, mineral oil free, nonflammable, non-volatile. It is alkaline solution that contains additives for oil holding capacity, surface wetting and no foaming attributes. No VOC's, No solvent, No Ammonia.
Usage
• In depth cleaning of hull, deck, mats, sails, stainless steel, aluminum, plastics, rubbers
• Protects the Gelcoat from external aggressions and help its shine.
• Leaves a protective film with water repellent properties
• Compatible with the electrical equipment on-board
• Fast and easy application, divide the cleaning time required for your boat by 2 or 3.